Shape and Style
This matters most! Know the shape of stone your fiancé wants. Secondly the setting of the ring dictates her style. The ring needs to fit her lifestyle and personality. It can be classic, fashion forward, vintage, organic, or glamorous. Spy on her style! Pay attention to the jewelry she wears, and see if she has a Pinterest page.
Loose Diamonds
More than likely you will be looking at loose stones. The diamond is for the most part the majority of the ring's cost. Be sure to deal with an educated sales person who can guide you and tell you what to look for. There will be certified diamonds as well as non-certified diamonds. Do some homework and read up on Gemological Institute of America's grading system that is understood all over the world.
Metal
Your significant other may prefer precious metal such as yellow, white or rose. The two most popular metals for engagement rings are Platinum and 18k gold. Platinum is the rarest of metals, is silvery white in color and is hypoallergenic. Slightly less than platinum is 14K and 18K, which is softer, but still a very strong metal for jewelry. Different alloys create variations of gold- white, yellow, and rose- and make gold harder, more durable. (24K gold is soft enough to bend with your fingers)
RINGS
ENGAGEMENT / BRIDAL
Selecting a style may be the hardest part of choosing an engagement ring.
The styles range from classic, modern, nature inspired, glamorous, or a combination.
There is a good chance she's been hinting… stay alert!
Here are a few of our favorite style engagement rings.
Halo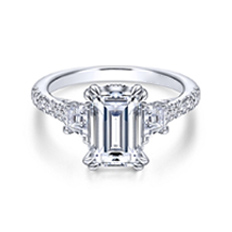 Three Stone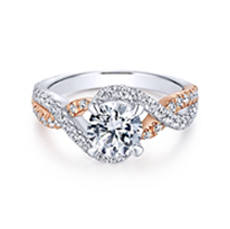 Free Form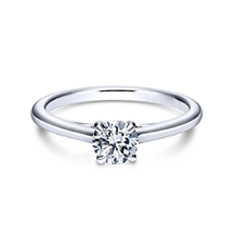 Solitaire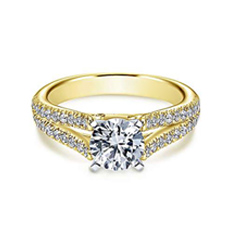 Split Shank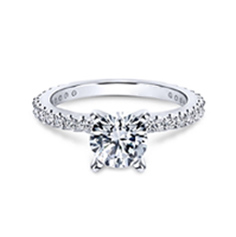 Straight
Cut
To many, cut is considered the most important of aspect of a gemstone's quality and value. Diamond cut affects some of its optical and physical properties including how it reflects light and "sparkles." Diamond cut refers to how the jeweler physically cuts the diamond stone into its shape and to the proportions and symmetry that achieve optimal light dispersion, which affects a diamond's quality and price.
Each diamond is cut to exact standards. The most common cut, the round brilliant, has 58 facets, or small, flat, polished planes designed to yield the maximum amount of light reflected back to the viewer. A diamond's light reflection, known as brilliance, is an extremely important factor in evaluating the quality of a diamond's cut. A poorly cut diamond will actually lose light and appear dull.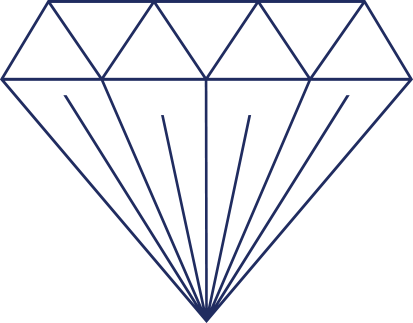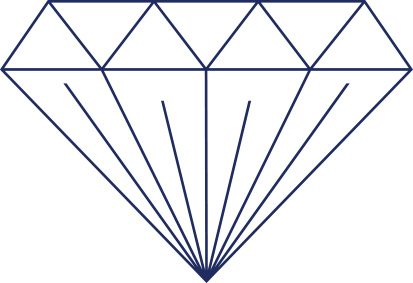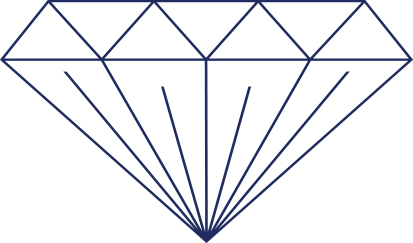 Clarity
A diamond's clarity, one of diamonds 4Cs, is affected by any external and internal characteristics created by nature when the diamond was formed or as a result of the cutting process. Characteristics such as internal spots or lines are called inclusions. Although these marks make each stone unique, the fewer the inclusions, the more valuable the stone. Inclusions can sometimes interfere with the passage of light through the stone, diminishing the sparkle and value of the diamond.
According to the quality analysis system of the Gemological Institute of America (GIA), clarity is graded on a scale ranging from Flawless (Fl) to Imperfect (I). Only a tiny percentage of diamonds ever achieve a grade of Flawless.
Color
Diamonds come in every color of the spectrum, but the most popular are colorless. Truly colorless, pure white diamonds are extremely rare and the most costly. Laboratories, like the Gemological Institute of America (GIA), grade stones according to how far they deviate from the purest white as one of the diamond 4Cs. The best way to see the true color of a diamond is by looking at it against a white surface. Colorless stones are graded D, E or F. All three grades are considered colorless but with slightly decreasing transparency. Color grading continues down through the alphabet, with each letter designating a slight darker or warmer tint.
Diamond color grades are determined by professionals under ideal circumstances, a situation seldom duplicated outside of a laboratory. Choose a diamond based on its appeal to you, rather than on a technical color scale. It is important to remember that color is a range. Think of a diamond color grade as your age. If you're 40 years old, your 40th birthday may have been yesterday, or your 41st birthday may be next month. However when someone asks your age, you simply tell them you're 40. It works the same way with color grading. For example, a diamond with a G color grade could, in fact, be very close to an F or to an H.

Carat Weight
Carat weight is one of the 4Cs of diamonds that measures a diamond's weight and size. The term "carat" is derived from the carob seeds that were used to balance scales in ancient times. Today's metric carat is equal to 200 milligrams, or one-fifth of a gram, and there are approximately 142 carats to an ounce. Carats are further divided into points. There are 100 points in a carat. A half-carat diamond may be referred to as a 50-point stone.
Because large diamonds are rare, they generally have a greater value per carat. When considering the value of a diamond or gemstone, two diamonds or gems of equal carat weight can have differing price points based on the quality of the cut, color, and clarity.